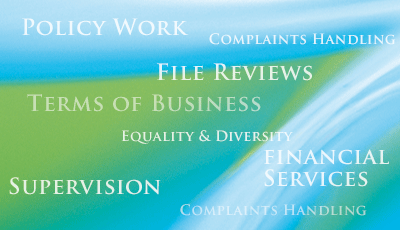 Many firms struggle to manage all aspects of the regulatory demands that are placed upon them. Quality & Compliance Legal can assist in managing your firm's regulatory risk by offering:

General regulatory updates

Office Manual and Policy drafting
Do you need help with your risk management policy, business continuity plan, whistleblowing policy or anti-bribery policy?
Is your equality & diversity policy up to date with current legislation and have your staff been trained?
Are your anti-money laundering procedures up to date and robust and have your staff been trained?
Does your office manual need an overhaul?
Need help drafting client care letters and/or terms of business?
Guidance on specific aspects of the Code of Conduct
Do you understand the term 'insurance mediation'? The vast majority of firms in England & Wales are engaged in work that involves arranging insurance contracts for example ATE insurance or defective title indemnity insurance but many are unaware of the regulatory obligations that go hand-in-hand with insurance mediation work.
Does your firm have systems and procedures in compliance with referred business?
Have you considered the compliance issues arising from your separate business?
Business Management arrangements
Do your firm's arrangements need an overhaul?
Is your firm struggling to operate its file review system? Are your
file reviews non-existent or falling by the wayside in favour of
chargeable hours? The conduct of meaningful file reviews is key to demonstrating compliance with the 2011 Code of Conduct and is one of the areas that COLPs and COFAs will have to consider in reviewing the firm's plans for compliance. Why not outsource to experienced auditors? For further infomation on our outsourcing service, click here.
Are you struggling to handle complaints? Complaints are typically time-consuming, costly and difficult to deal with. Why not engage Quality & Compliance Legal to handle them on your behalf. Our hourly rates will allow you to spend your time more profitably, safe in the knowledge that your aggrieved client will be attended to courteously, professionally and quickly.